Originally published on awe.com
As I head toward the orange glow of the distant bonfire, I'm struck by the beauty of the twilight blue sky filled with millions of stars and the white capped mountains outlined against the deep purple hues of the setting sun. Hiking through the rugged and mountainous terrain that lays out before me, I'm joined by fellow explorers, eager to spend this evening by the warm fire discussing the future of human connection and communication. It's a diverse group from all over the globe and we have arrived at this time and place to enjoy a moment of heart-to-heart connection and collaboration. What makes this night unique is that no airline tickets were required to reach this remote location, no hiking gear, and no firewood. We have gathered in the metaverse from the comfort and safety of our own homes.
A New Category Emerges: B2B Immersive Social Networks
Just 15 short years ago this type of meeting would have not been possible. Advances in computers and networking technologies have enabled us to create immersive worlds where we can embody avatars, interact with others and explore 3D landscapes of all shapes and sizes. Historically these types of experiences were primary reserved for enthusiast gamers and hardcore techies, however more and more people are flocking to digitally mediated communications. The barriers to entry such as high-quality hardware and advanced levels of expertise have all but vanished as companies are building communication and collaboration technologies that can be accessed by practically everyone.
As businesses were forced to find new ways of working over the last year, much of the workforce has made the move to working online. This has brought an increased interest in finding platforms that can better mimic physical and in-person interactions. Virtual business events and the platforms that support them have exploded over this past year with varying levels of success. Remote workers have become accustomed to on-demand content available 24/7 and flexible hours that allow for productivity at home. New groups of immersive technology users are emerging, business leaders and professionals hungry to find their tribe, connect and collaborate in the metaverse.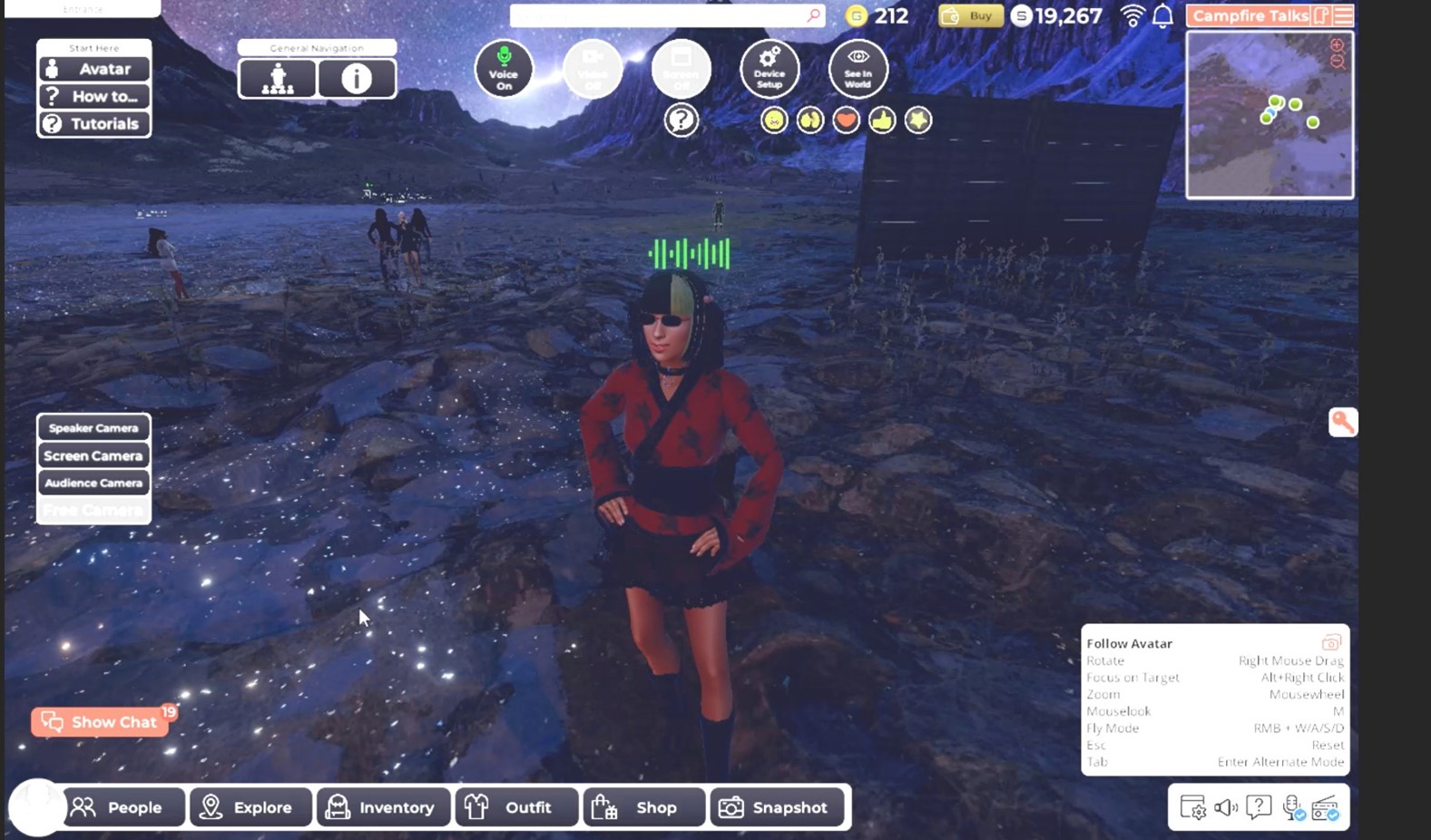 My avatar making its way to the virtual fireside chat in the 3D business platform, Breakroom.
Metaverse: No headset required
During our inspirational virtual fireside chat, Philip Rosedale, the creator of Second Life and High Fidelity, and others attempted to define the term 'metaverse'. As Rosedale outlined, in the simplest terms the metaverse is "the digital space between us", a canvas that is accessible to all. Others would add that it needs to be a persistent or 'always-on' digital space where people can interact, connect and have the freedom to create the world around them. The metaverse is not new and people have been meeting in virtual worlds for years. Typically, these communities were seen as fringe groups and not part of mainstream society. That is changing. Today groups of professionals from all industries are gathering across the metaverse, connecting with laptops, tablets, VR/AR headsets and even smartphones. Many immersive platforms are providing tools for professionals to meet, work and network that don't require headsets or special hardware. These 3D environments accessible on 2D devices like smartphones and PCs are making immersive spaces more inviting and accessible than ever before.
The benefits of 3D spaces, headset or not, allow users more interactivity and agency or freedom of movement and expression. These are essential building blocks to meaningful networking and can create more powerful experiences than today's social platforms like Linkedin and Facebook. There has been much research done on the power of embodying an avatar in a 3D digital environment to help build closer connections with others and create a sense of presence. The avatar-driven, 3D platform Engage VR has shared a few of these studies on their website as a resource.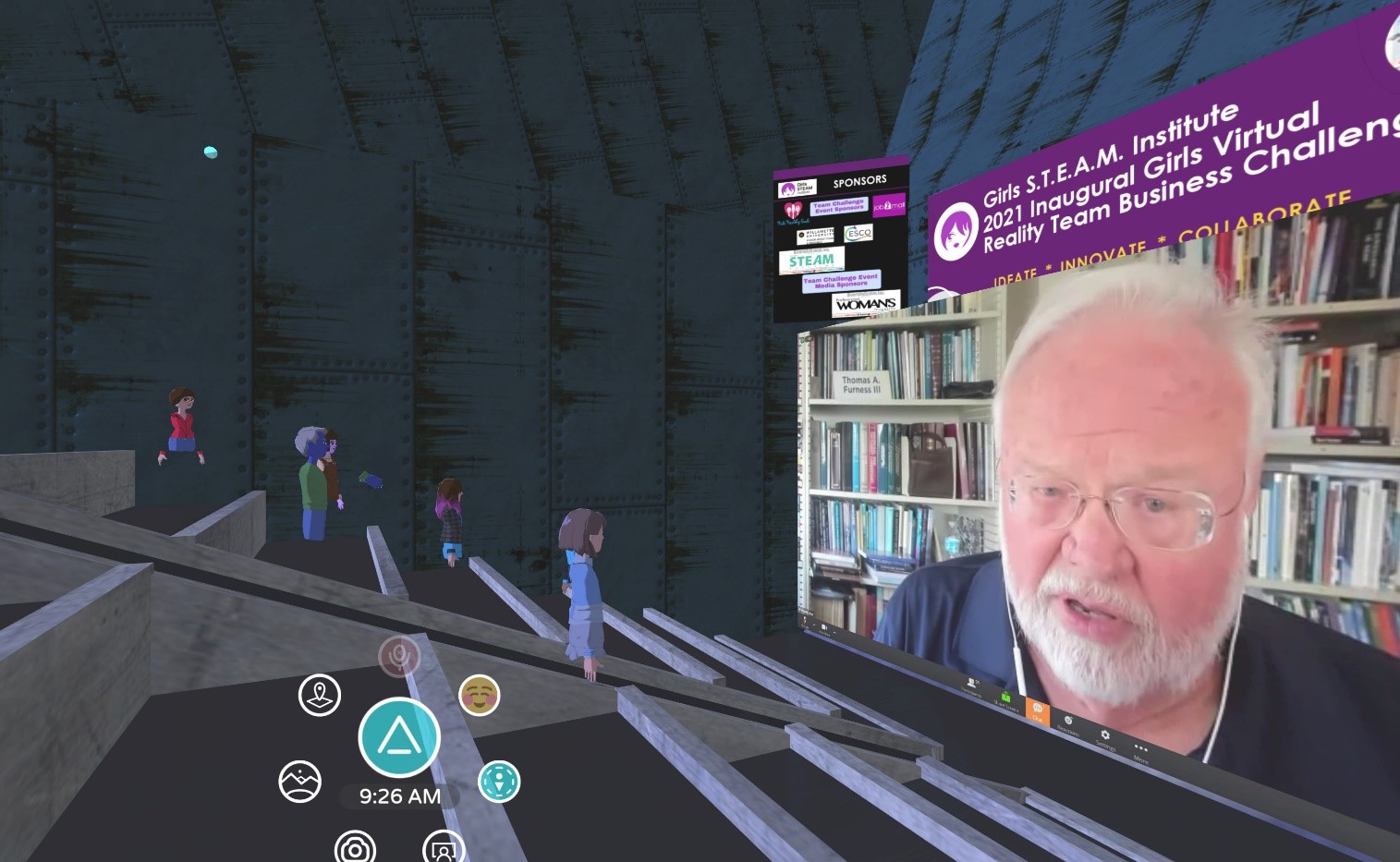 A recent networking event in Altspace VR with Tom Furness, the 'grandfather of virtual reality'.

Which Immersive Networking Platform is Right for You?
Currently there is no ONE professional immersive space that everyone is flocking to, instead there are several options that are attracting slightly different segments of users. This fragmented landscape may eventually be a thing of the past as companies with big pockets are investing heavily in this sector. Microsoft's acquisition of Altspace VR and their new Microsoft Mesh technology IS the future of networking according to XR expert and Forbes contributor, Charlie Fink. He lists Altspace VR as one of his primary resources for professional networking. Engage is a 3D, primarily VR enabled platform that has announced a new project named Engage Oasis, that purports to be the immersive version of Linkedin. Fink reported that Engage has raised $10M in support of the project and the tentative launch date is early 2022.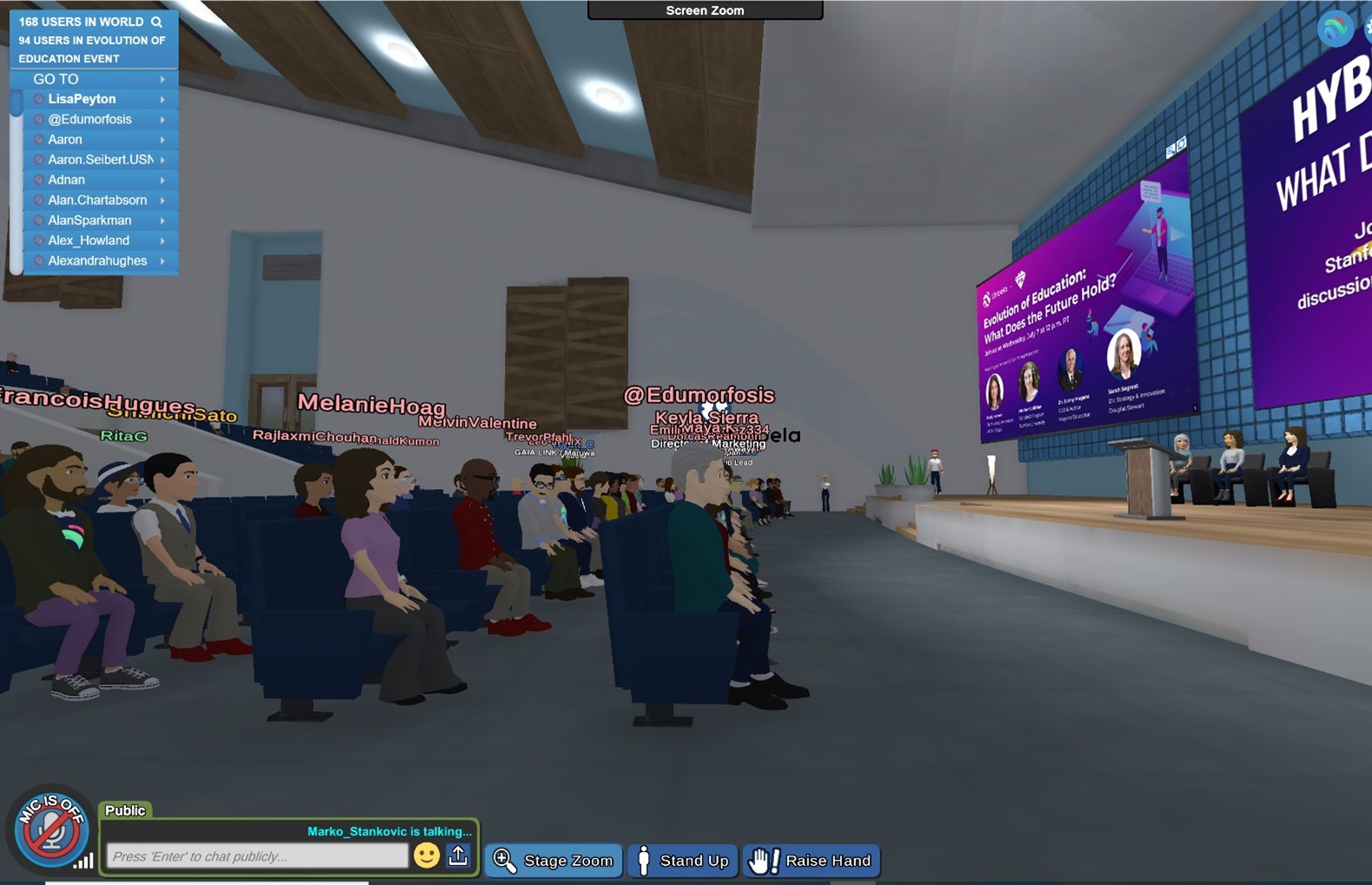 Great networking was to be had at this packed education focused event in Virbela's 3D auditorium.
There are a handful of other 3D platforms that are attracting professionals looking to network, so how does one choose where to invest valuable time? There are two factors to consider: 1) The size of the community – Networking is about growing your number of connections, so size does matter. This is why Linkedin has become so popular as nearly every professional has a presence on the platform. 2) The quality of the contacts you'll meet – If you're looking to connect with educators then spending time on a platform that primarily houses content developers won't really help you. A few other considerations include how much time it will take to learn to navigate in the immersive space, does the platform make it easy to connect with others and do you enjoy spending time there. Consistent participation in any community is key to reaping the rewards so if it's not enjoyable, you likely won't continue to participate.
If you would like additional guidance experiencing XR collaboration and meeting spaces firsthand, Augmented World Expo and Charlie Fink have partnered to offer a hands-on XR virtual collaboration workshop. You can learn more about this opportunity and sign up on AWE's website.
A Look Ahead
We are all in the throws of a very exciting and tumultuous time. The disruptions of the digital era are becoming more stark and painful lessons along with exhilarating advances are happening at breakneck speed. Rosedale has a unique perspective on the challenges involved with building online communities, as the immersive world he founded has survived for over a decade. During our fireside chat, he points out that a "top-down model is unsuccessful." He argues that these digital worlds need to be open and allow for communities to do their own policing as moderating interactions between multiple avatars is impossible and the costs per user will be too high. This begs the question as to whether corporations and possible investors in these new business spaces will tolerate extending this freedom to users and allow enough time for the organic growth required for a sustainable community.
We all have an opportunity to create something new that deviates from the personal reality afforded to us through social media and advertising algorithms. This hope of a shared reality that engenders trust, respect, and more than a desire for 'likes' and 'followers' keeps me searching for new opportunities to connect with my peers and has fueled my passion for virtual worlds since 2006. Are you ready to join me on this exciting journey?
Where to Start Your Immersive Networking Journey
If you're ready to dive in and start exploring these 3D professional spaces, I applaud your pioneering spirit. Below I have provided a brief review of my favorite platforms and suggest you explore each one to determine if it's a good fit for you. This is by no means a list of ALL the options available for 3D networking, however these are a great place to start!

AltSpace offers an 'always-on' virtual campus commons where you can find around 30-50 users mingling around the campfire. The platform does require a quick download with a light learning curve for the 2D option. No VR headset is required but if you have a stand-alone or tethered VR device, you're all set.
The platform is event driven, as are most, so you'll find other users logging on for specific events based upon interests. I found several related to business and education. They also have a feature in beta, where users can build their own worlds and express their creativity. This feature isn't as simple as using a plug and play template; however, I would imagine something like that may be on the way.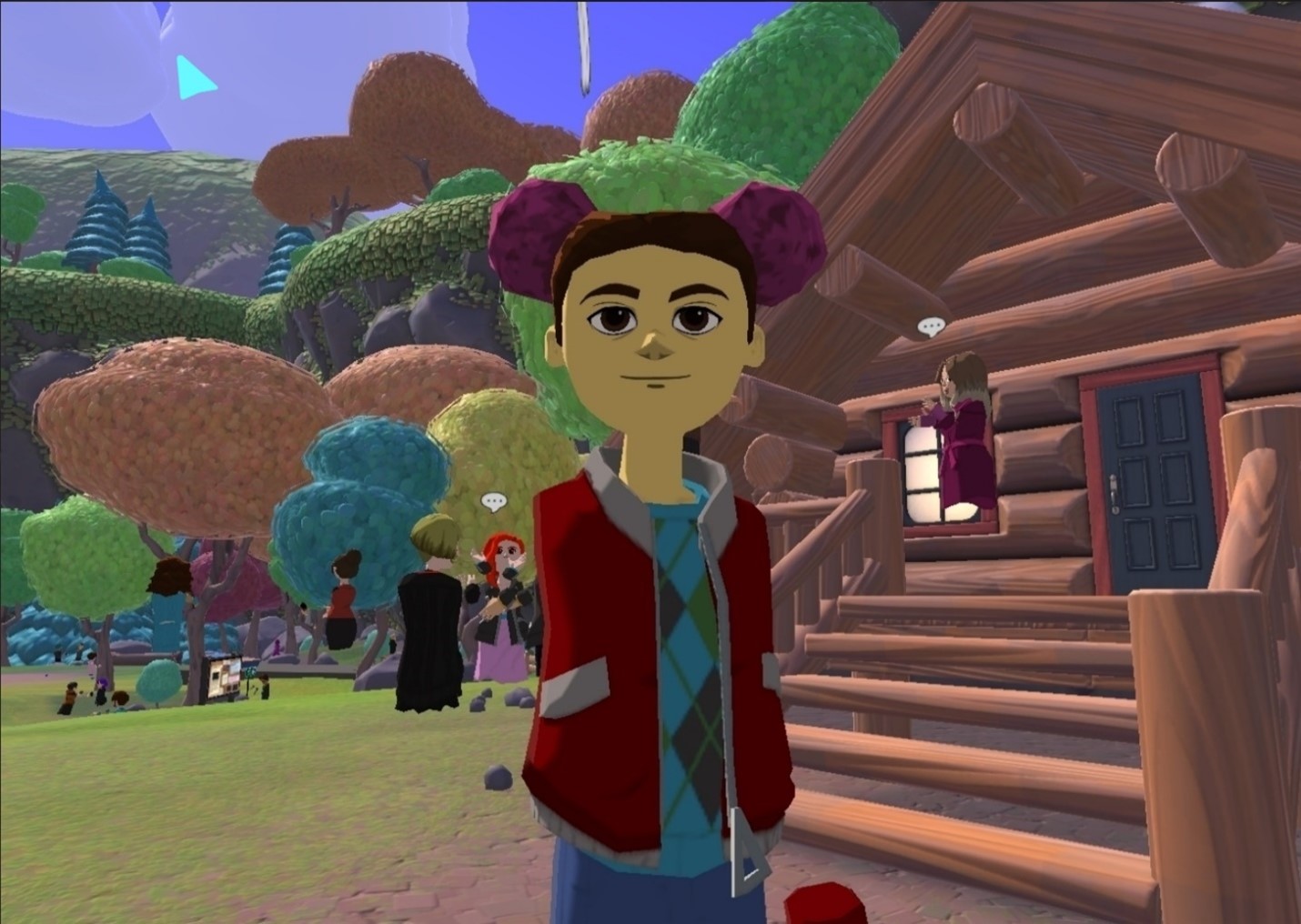 Altspace VR avatars are not photorealistic and have a limited number of customization options.
The platform offers a few features to encourage building connections such as the ability to add another user as a 'friend' so that you can directly message that person and see when they are online. However, users don't have access to robust profiles that list out details about another user, like job title, company, contact details, etc. Avatar customization is limited, not life-like and doesn't allow for the average user to create their own look or style.

Engage is a robust 3D community that is best experienced in a VR headset. The 2D or desktop version is limited, and you can tell their primary audience are VR users. This platform has announced a new project, Engage Oasis, that purports to be the Linkedin of immersive spaces launching in 2022. In the meantime, the current platform does offer a persistent common space for users, however it was empty when I logged on. This platform is also event driven and so your best chances of meeting and interacting with others will be during one of their promoted events.
The platform allows users to upload a photo to create a more realistic avatar and has a content creator program that allows 3D artists to build and share custom content. Platform capabilities focus more on enabling users to host their own 3D events with current contacts instead of facilitating meeting new connections on the platform. There is no ability to add 'friends', search profiles or even participate in group text chat. Hopefully these shortfalls will be addressed soon.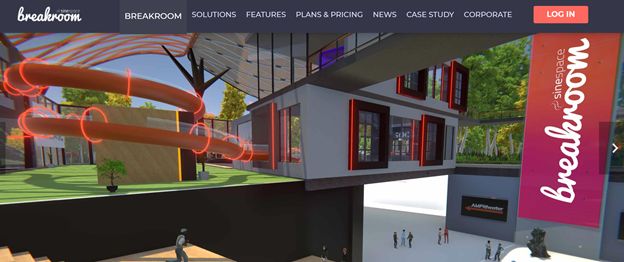 One of my favorite platforms for business networking is Breakroom. Created by the founder of 3D social world, Sinespace, Breakroom offers the highest quality 3D environments and content streamed over a browser – that's right, no download required. Removing this point of friction is the holy grail for marketing professionals who can promote events and activities in the platform with a simple URL. Breakroom also takes advantage of high-performance, streaming from the cloud which allows for users to access high quality content without the need for a higher-end laptop.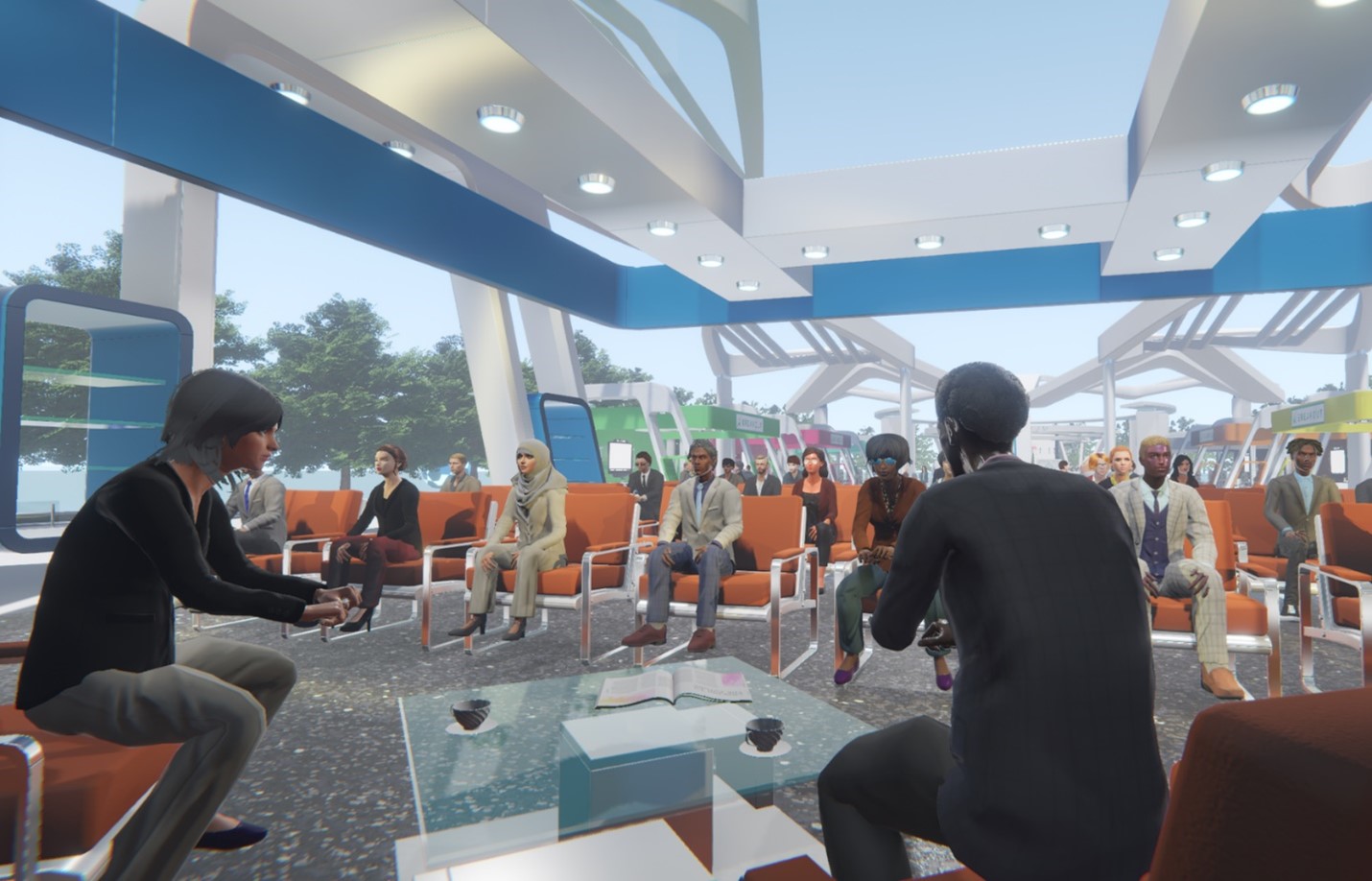 Breakroom houses accessible high-quality content and endless options for avatar customization.
The platform has robust networking capabilities with a searchable database of users, customizable profiles and the ability to add 'friends' to your network enabling you to see who's online, send a private message and more. Avatar customization, although not as easy as some of the other platforms, does allow for endless options as users have access to content created by a wide network of artists. Compensated through an in-world economy, content creators are encouraged to create on the platform and there's a host of beautiful environments to visit.
Currently the platform doesn't offer any persistent and publicly available spaces, however they are hosting a series of events in-world that offer attendees great networking opportunities and the chance to explore the environment.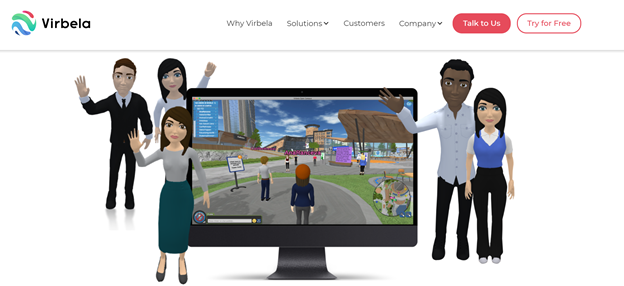 Virbela's open campus is a persistent 3D environment that they keep equipped with very friendly live staff to help users navigate the open space. The platform does require a download however once loaded onto your desktop it's quite easy to navigate and customize your avatar. The platform allows users to create and browse profiles – adding a photo, bio and links to social platforms like Linkedin. They currently do not offer a way to connect with other Virbela users, such as a 'friend' network but you can directly IM any user in the open campus space. This aids in the networking process and helps to facilitate growing one's network.
When I dropped by the open campus on a random Friday, there were a handful of users in the space, so to do any real networking attending a planned event is essential. Virbela is actively hosting networking events and I recently attended an event on the future of education which was very well attended with a lively Q&A. One complaint that I've heard from more than one colleague, is the cartoon-like nature of the platform's avatars, are perhaps not optimal for professional and corporate executives.
Let's Connect!
I'm excited to anticipate the future of networking with these immersive platforms and would love to connect. Feel free to contact me on any of these platforms or good old fashioned Linkedin. What has YOUR experience of 3D networking been like? And please be sure to share your favorite 3D spaces in the comments below, I'm always looking for new communities to explore.